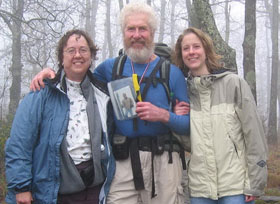 Charlie completed the entire Appalachian Trail.
May 30, 2004 - November 12, 2004.
January 8, 2005 - A note from Charlie.
Dear Family & Friends,
The last of my Appalachian Trail pictures are available for viewing. They cover my trek threw Great Smoky Mountain National Park, North Carolina and Georgia to the southern terminus of the trail at Springer Mountain. As you might imagine hiking that last mile to the summit of Springer with my family and some dear friends was the most memorable part of this 5½ month journey. There were also some parties afterwards, the most notable in Ellijay, GA at the home of our friends Maggie & Walter McDonald the day after completing the hike. We were joined by fourteen of my fellow southbound hikers who had also just completed the trail. This was quite special since some of us hadn't seen each other for a long time.
Horst, you will be happy to see that the beard is gone despite the encouraging remarks from Bryan to keep it. I also want to thank all of you that sent messages of encouragement and support. Mary Ann was my lifeline; she would come out periodically with food, new equipment and all those messages that you wrote. They kept my spirits high and helped me through those tough times; like the three hurricanes in September and the leg injuries that hobbled me in the early going. Thank you one and all!
I had some wonderful experiences along the way from people hikers call "Trail Angels". These were people that would do extraordinary things for people they had never seen before and probably would never see again. These people all along the way provided rides to distant locations, carried food out to us on the trail and invited us into their homes for meals. It was quite amazing and made me realize that there is a tremendous amount of good in this world.
There are some very special people I need to thank. First of all, Mary Ann for being herself and always being there for me. There is a tendency to take your spouse for granted, but it is times like this hike when you have a lot of time to ponder life that you realize just how important your partner is to you. I am also especially thankful to Jane Card for her enthusiasm and efforts to keep all my friends at BASF informed. Even in retirement she is the best assistant and a good friend. Lastly, I can't thank Vicky enough for the fantastic website she created. I know it was a lot of work to decipher all my notes and build something meaningful. What a fantastic job!
So, would I do it again? An emphatic no! Five and a half months in the woods is a long time; a once in a lifetime experience. Now, if there is someone who would like to do a hike of a few weeks and needs company, give me a call!
Happy Trails everyone,
Charlie
_____________________________________________________
January 2, 2005 - This is the last installment of pictures. There are additions to Virginia, TN/NC and new pictures in Georgia. There are also pictures of the parties in Georgia and in NC. There are a number of newspaper articles below. You will need Adobe Reader to view them.
Connecticut Valley Spectator - July 29, 2004
Holly Spring Sun - November 24, 2004
Ellijay Times-Courier - December 2, 2004

It has been my pleasure to keep everyone informed for the last 8 months. This website will stay up as long as I own the domain. Thanks for visiting.
-Vicky ................................................